Amiről a Csend-sarok mesél
2009. július 2. csütörtök - 22:54 | beküldő: csepp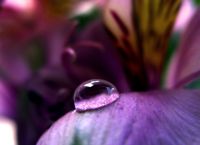 Amikor Tündérkert lakói elfáradnak az örök táncban, az örök kacagásban és az örök boldogságban, vagy szomorúak lesznek, mert hosszabb-rövidebb időre kedvesük kimegy a világba megsimogatni azokat, akik náluk is szomorúbbak és bánatosabbak, szóval, akikkel mindezek történnek, elmennek a Tündérkert egy távoli, rejtett zugába, ahol csend van, békesség és nyugalom. Elmennek az árnyékos fák alá, hogy megpihenjenek, hogy távollévő kedvesükkel beszélgessenek, hogy hallgassák a fák susogását, a madarak varázslaton átszűrt énekét és saját lelkük hangjait.
Akármennyien mennek is egyszerre a Csend-sarokba, ott mindig egyedül lesznek, mert a Kertnek ez a legvarázslatosabb része. Aki ide jön, csak a körülötte lévő természetet látja, mert a Kertet alapító Első Tündérek így teremtették ezt a sarkot.
Nem kell sokat menni, hogy a fáradtak és a szomorúak elérjék a nyughelyet, mert a Kertben nem lépkednek, hanem gondolat-szárnyon szállnak a lakók, melyhez a hajtóerőt a szív dobbanásai és a világból hozott emlékek adják. Ezért szép mindig a Tündérkert füve. Senki nem tapossa le, még akkor sem, ha estre kelve vidám énekszóval körbeülik a Tüzet és megidézik belőle a gondolataikat.
A Tűz belőlük fakad, s nemcsak tündér-fénye és bolyhos-melege van, hanem énekel és táncol is a fűszőnyeg felett. Igaziak a lángjai, mert a lelkek lángban égnek: a szerelem, az akarás, a küzdelem, a sóhaj, a vágy és a múlt lángjai táplálják szüntelen a Tündérek lelkét is, hogy azok ki ne aludjanak.
A lángok tánca néha könnyed és játékos, mert boldogok a tűz körül ülők, néha hirtelen feltör, majd alig pislákol, mert van közöttük, akinek elveszett a fele lelke s most - mindig - kétségbeesetten keresi, mert nélküle nem lehet élni. Szeretne az égig törni, túllátni a Kerten, ki a világba, hátha megpillantja Őt, akivel egyszer már egyek voltak, vagy egyek szerettek volna lenni. Szeretne átnyúlni a Falon, lerombolni a Kaput, hogy jöjjön be ide az egész világ, mert azzal együtt biztosan Ő is bejön. De amikor kinéz a világba, sötét homályt lát, értelmetlen zajokat hall, durva üvöltéseket, egyetlen masszává gyúrt arctalan emberek és anyagok szürke tömegét. S hiába próbálja szétválasztani az arcokat, hogy meglelje Őt, nem képes rá. Ekkor lelkének lángja apróvá válik, majdnem kihuny.
Ezt látva, a mellette ülők gyengéden körbefogják, megérintik az arcát és csendesen énekelnek neki. Így a halni készülő lélek ismét erőre kap, mert érzi: nincs egyedül, s feltámad benne, a legeslegmélyében egy alig hallható, de szikla-erős gondolat: Hátha...
Ezt meghallják a többiek is, mert Tündérországban mindenki hall mindent. Ott nincs titkolni való, mert a Kert lakói jók és szépek. S amint meghallják a remény hangját, elmosolyodnak és kórusban elismétlik azt. Az ezernyi "Hátha..." és "Igen!" bűvös dallama szárnyra kel a Tűz körül, körtáncba kezd a szomorú körül.
Azután mindannyian felállnak a Tűz mellől, kézenfogják a szomorút és azt mondják neki:
- Most pedig menjünk el a Csend-sarokba és pihenjünk.
Kéz a kézben elindulnak a fák alá, a bokrok alá, a Kristálypatak partjára. Útközben virágot szednek és odaadják annak, akit kísérnek, hogy amikor leül a Csend Padjára, tegye maga mellé és beszélgessen velük. Amikor az erdő sűrűsödni kezd, és már csak egy keskeny ösvényt hagy szabadon a varázslat, a többiek hátramaradnak, és akit kísértek, egyedül indul tovább.
A Csend-sarok a magányosság helye, ide a madarak is ritkán tévednek; csak néha-néha szállnak le a kis tisztás közepén az ős-tündéridőben felállított faragott kőmedence szélére, szomjukat oltani. A medence soha ki nem fogyó hűs vize új erőt ad a szárnyaknak, a kedves lények tovaszállnak, s marad a csend, a tiszta szellő és a magány.
Akit kísértek, lassan odaballag a medence melletti durván faragott fapadhoz, leül, becsukja a szemét és álmodik.
Álma egészen valószerű, mert a Tündérálmokban erő van, amelyet az ősök és a Kert ereje ad nekik. Az erő segítségével az álmodó tovaszáll, ki a világba, be a szürke massza közé, olyan közel annak részeihez, hogy már kivehetők lesznek az egyes tárgyak, színek, zajok, arcok. Az erő fénybe borítja az emlékezést is, mert a keresőnek emlékezni kell arra a pillanatra, amikor lelkének másik fele elment tőle. Mindenre emlékeznie kell, hogy újra megtalálja Őt! Az erő találékonyságot ad, hogy merre induljon, s hogyan lépjen túl a nehézségeken. S az erő erőt is ad, hogy bárhol is találja lelkének felét, bármilyen körülmények között, magasan vagy mélyen, Mennyországban vagy a pokol fenekén, ne rendüljön meg, hanem boldogság töltse el, mert megvan az, aki hiányzik! Az erő határozottságot is ad, hogy amikor rálelt, egyetlen mozdulattal kiragadja világi börtönéből, magához ölelje és azt mondja neki:
- Itt vagyok, tiéd vagyok újra, s te az enyém! Menjünk, ne nézzünk hátra, mert ami mögöttünk van, az a volt, ami előttünk: az a most és a lesz. A miénk - örökre.
A Tündérkert ereje szárnyakat ad, hogy szállni tudjanak, könnyedén, gyorsan, észrevétlenül, legyőzve minden akadályt, amit a világ állít eléjük a visszaútjukon, Átrepülve a legmagasabb hegyeken, a legzordabb vidékeken, nem törődve az utánuk kapó vad karmokkal, az ocsmány üvöltésekkel, az igazságokkal, a hazugságokkal, a vádakkal, az ítéletekkel. Nem törődve senkivel és semmivel, csak egymással. Mert most már csak ez számít, hiszen ez az Élet, ez a teljesség, ez a gyógyulás, mert a kettőből újra létrejött az Egy. Ami valaha szétszakadt, most összeforrt, a végtelen seb eltűnt a test hibátlan puha bársony, a lélek ujjongó fény, mert a kettőből Egy lett.
S amikor visszaérkeznek - most már Egyként - a Csend-sarokba, leülnek a padra és nézik az örök élet vizét csipegető Tündér-madarakat.
Amikor felébred álmából, akit kísértek, valakinek a kezét érzi a kezében. Ismerős, meleg kezet, amely eddig csak az emlékeiben és vágyaiban létezett. A kéz gyengéden megszorítja az övét, s ő ránéz arra, akit álmában megtalált és ide hozott.
Mosoly lát mosolyt, szemek látnak szemeket, ajkak érintenek ajkakat, kezek fonódnak össze, mert a Tündérkertben a legkisebb lakó is tudja, hogy
öt meg öt az tíz
tíz meg tíz az húsz
húsz pedig
EGY
Mi!
S amikor eltelik egy szakasz az időtlen időből, kéz a kézben végigmennek az erdei ösvényen ki a fényre, melegre, táncra, énekre - a soha véget nem érő boldog Életre. S most már ők is kísérőkké válnak, szolgálva a szomorúk kifogyhatatlan áradatát.
(Őri István)
csepp