Pénzről - segítség gazdag lettem!?
2010. január 27. szerda - 12:56 | beküldő: Nanna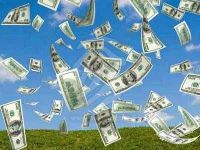 Joe Vitale gondolatai:
Észrevettem, hogy akadnak, akik rosszindulatúan spekulálnak, és kritizálják azokat, akik vonzzák a pénzt és fényűző életet élnek.
Ez a hitrendszeren alapul, természetesen.
Úgy tűnik, a legtöbben úgy vélik, hogy a pénz egy szükséges rossz.
Szükségük van rá a túléléshez, de ez nem igazán teszi jóvá a pénzt. És ha még több pénzük van, mint elég, akkor igyekeznek gyorsan megszabadulni tőle. Ez az, amiért néhány lottó nyertesei tönkre megy a nyertességét követő egy évvel. Egy tudatalatti szinten, ugyanis úgy állította be magát (a "vagyon beállítási pont"-ját úgy határozta meg) hogy a komfort szintje alacsonyan legyen.
Ez (az alacsony komfort szint) az egyik megjelenési formája annak, ha az ember öndtudatlanul is elítéli azokat akiknek pénze van (mivel elítéli, természetesen nem akar közéjük tartozni, nem akar a gazdagok módjára gondolkodni).
Írtam erről - legújabb könyvem, "Joe Vitale: Még pénzt, most". Azért írtam, hogy ez a könyv segítse a tiszta gondolatokat és engedje el a negatív hiedelmeket pénzről.
A Pénz önmagában értelmetlen. Csak papír és fém. Utazás közben Te is láthatod, hogy a pénz az egyik országban, úgy néz ki, mint a Monopoly játékpénz egy másik országban (Próbálja vásárol valamit az USA-ban az orosz rubelen).
A pénznek csak akkor van értelme, ha szavakat csatolunk, kapcsolunk hozzá. A legtöbbünk számára, a Pénz már akkor is önkéntelenül "beszél" mielőtt megszólalhatott volna számunkra :)
Hiszen a család és a barátok, és később a média, a politika, a vallás, stb folyamatosan sugallják felénk véleményüket (amiket ők éreznek mélyen a Pénz iránt). Ezeket a véleményeket eddig legtöbben még soha nem kérdőjelezték meg.
A gazdag embereket csodálom - pozitív jelentést csatolok a pénzhez. Mint Tristan (aki egy barátom és írt nem régiben nekem egy emailt arról, milyen nagyszerű dolgokra költötte a pénzét az elmúlt időkben), Tristan és a vele azonosan gondolkodók, már rájöttek, hogy minél több pénzt vonzani érdemes, hiszen használhatják arra, hogy segítsék saját magukat és másokat is.
Élvezem a pénzt.
Lehetővé teszi számomra, hogy a játsszak, akár gitárt, vagy autót vegyek, és ez lehetővé teszi, hogy segítek másoknak, akár saját családomban, akár idegeneken.
Te is hidd el, hogy egy boldog szikra él Benned, ha van pénzed.
Például, nemrég vettem egy csomó kerti bútorok az új irodámba. Valamennyit Teak root Tajvanról.
Amikor a szállítók megjöttek, megkérdeztem, lenne-e kedvük áthelyezni néhány más bútoromat is, ha már úgyis itt vannak. ( szivar szekrényem, egy íróasztal, és egy fából készült gitár tartó). Amikor megkérdeztem őket, mennyire akarják a rendkívüli munkavégzést, akkor csak vállat vontak, és azt mondta: "Mindegy."
Akkor kihúztam a zsebemből két száz dollárt.
"Hogy érzik magukat ettől a kétszáz dollártól?" Kérdeztem.
A költöztető szeme kikerekedett, és bólintott. Jobban.
Mielőtt megszólalhatott volna, átadtam az első kétszáz dollárt, majd benyúlt a zsebembe, és átnyújtottam másik kétszáz dollárt is.
Ezen a ponton nem tudtak beszélni.
Úgy éreztem, iszonyatos, hogy tudom: segített ezeknek az embereknek ez a spontán ajándék. Annyira váratlan, és olyan nagy volt, hogy ők valószínűleg még mindig beszélnek erről.
Ezt sokkal könnyebben meg tudod tenni, minél több pénzed van,
És ha tudod, a pénz semleges energia- és Te használod arra, hogy különbségek legyen a világban.
Money enables you to do more good.
Pénz lehetővé teszi, hogy tegyenek több a jót !
Ez az egyik legerősebb szellemi eszköz amit valaha készítettek.