Lolli pszichológiai linkgyűjteménye
2009. január 6. kedd - 11:43 | beküldő: lollipop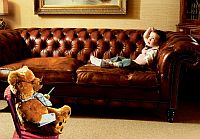 Ezennel a blogomat fórum formájában is közreadom, hogy...
BESZÉLJÜNK RÓLA!
Az elmúlt évben a függőség és a manipuláció felszámolására tettem kísérleteket az életemben.
Negatívan élő, gondolkodó személyekkel szakítottam meg a kapcsolatot véglegesen.
Olyan lelki károsodásokkal rendelkeztek, ami az önbecsülésemre súlyos csapásokat mért.
Miért vonzottam be őket?
Mert bennem is meg volt az erre megfelelő energia szintű károsodás.
Természetesen mindenkiben van negativitás, de ha ez kóros szintet üt meg, az már nem segíti elő a kapcsolatok jó irányú működését.
Ma azt vallom, hogy egy-egy esemény segíthet abban, hogy magunkba nézzünk, és felszabadítsuk, megértsük érzéseinket a történések tükrében.
Mondhatnám az is, hogy bárcsak előbb ébredtem volna.
De már nem bánom, mert nélkülük nem vonzottam volna be azokat az eseményeket, és embereket, akikkel most együtt vagyok.
Illetve, nélkülük nem dönthettem volna.
A jó oldal, nem látszódhat a rossz nélkül.
Visszaemlékezve, galád módon végeztem ezekkel a kapcsolatokkal.
Csak folyamatos pszichológiai, és személyiség ismereti tanulmányaim döbbentettek rá, hogy pontosan azt a gyengepontjukat ütöttem meg, amire a legkevésbé sem számítottak.
Azt vonzották be tőlem, amitől a legjobban féltek.
Kitörésem által, nem csak a viselkedésem borította ki őket, hanem épp az a helyzet, amit teremtettem nekik.
Minden ujj rámszegeződött...
És még van, aki azóta sem nézett magába, és még mindíg zaklat,
miközben az a meggyőződése, hogy pszicholgiai eset vagyok, és teljesen meg vagyok zakkanva... :D
Szegény, nem lehet boldog nélkülem....egy áldozat.
Nekem az az érzésem, hogy elítéljük a pszichológiát.
Holott karöltve is járhatnánk ezzel a tudással.
Egyáltalán nem tartom szégyenteljesnek azt, ha valaki pszihológushoz megy.
Máris tett egy lépést azért, hogy ezzel a lehetőséggel élve egy tudatosabb, és örömtelibb élet felé forduljon.
MÁRIS TETTÉL EGY LÉPÉST AZÉRT, HOGY EZZEL A LEHETŐSÉGGEL ÉLVE EGY TUDATOSABB, ÉS ÖRÖMTELIBB ÉLET FELÉ FORDULJ!
Ezt a mondatot szándékosan emeltem ki, mert úgy gondolom, hogy nekünk magyaroknak sok sok hiányunk van az önmegerősítés terén.
Ezzel gyarapítom a bíztatás szavait, a sok bírálás és ítélkezés közepedte.
A továbbiakban pedig közreadom a kedvenc linkgyűjteményemet, amiből bárki merítkezhet amennyit csak akar, és amennyi jól esik.
Ezek az oldalak, hozzá járulnak a helyes önismerethez, ami segíthet minket eligazodni a kapcsolatok területén.
A gyűjteményt folyamatosan bővíteni, és ápolni fogom.
Ámen!
Kodependencia: http://www.helyreallas.hu/problemak/kodependencia.html
Érzelmi függőség: http://www.helyreallas.hu/problemak/erzelmifuggoseg.html
Érzelmi zsarolás: http://olvasmanyok.blogter.hu/tag/zsarolas
Enneagram - újkeletű tudomány ág - avagy azonosítsd be a személyiség típusodat, ennek a különleges módszernek a segítségével. Rendkívül sokat segít az önismeretben, és a másokkal való bánásmódban, kommunikációban: http://enneagram.blog.hu/2007/w49/
Tudni szeretnéd, milyen személyiségtípusba tartozol?
Az itt található tesztek segítségével könnyen megfejtheted:
http://www.enneagram.hu/tesztek.htm
NEM SZADISTÁKNAK! Gonoszság-tanfolyam VIII: az önvád hülyeség!
http://eletmod.transindex.ro/?cikk=3477
A megbocsátás és neheztelés feloldásának gyakorlása angel-a: http://www.thesecret.hu/node/5650
Az egészséges párkapcsolat - 23. pontos lista http://www.parkapcsolat.hu/modules.php?name=News&file=article&sid=12
A mágus útja - önismereti tanfolyam - Deepak Chopra Merlin és Arthúr király c. könyve alapján, az egész itt olvasható:
http://magia.szeretni.hu/magus/magus_utja.php
Röviden a lelki terrorról: http://www.lelkititkaink.hu/lelki_terror.html
A szóbeli bántalmazásról: http://www.lelkititkaink.hu/miert_bantasz.html
A szóbeli bántalmazás az áldozattá válás útján - párkapcsolatban: http://www.lelkititkaink.hu/szobeli_bantalmazas.html
Féltékenység a kapcsolatban: http://www.lelkititkaink.hu/feltekenyseg.html
Kedves Flowom kérésére ajánlom, a szorongás kezelésére Reneau Z. Peurifoy Szorongás, fóbiák, pánik című könyvét, amelyben tanfolyam szerűen szabadulhatunk meg félelmeinktől. A könyv 15 leckére épül. Nagyszerű ötleteket ad a szorongások, félelmek feldolgozásához.
Nem csak erős szorongásos betegség esetén javallott! Bevágom ide a könyv linkjét a libriből: http://www.libri.hu/hu/konyvek/tars_tudomanyok/pszichologia/szorongas_fo...
*
Komolyabb segítséget a nőklapja cafe szakértői oldalán kérhetsz, kérdéseidre, pár napon belül válaszolnak.
A megfelelő szakértő kiválasztásához, kattints a "Keresés a szakértők között" Foglalkozás keresőre.
http://www.nlcafe.hu/szakertok
Add hozzá a kedvenceidhez...